Some projects seem very easy when you decide you can do it yourself, but there is a reason that others do that job professionally. In other cases, some projects seem incredibly complex (because you've never done them before) but can easily be managed with a Pinterest article and some duct tape. So how do you know which is the case for your upcoming home improvements – can you make the fixes yourself or should you hire professional remodeling services?
When DIY is DOA
The unfortunate truth about home improvement projects is that, for the vast majority, you are always better off calling a professional. It may seem expensive now, but compared to the costs you could be avoiding years down the road if a home repair leads to further damage, calling a professional today is a breeze!
Here are some standard tips to help you make a decision of whether or not to call a professional for your home repair projects!
I might hurt myself. If you find yourself thinking this at any point in your home repair project, then it is NOT a "do it yourself" project. Stop what you are doing and call a professional. Consider this, you could be saving yourself medical bills, downtime from not working, and any number of other costs you may incur after an injury.
I might hurt my house. If you are afraid of breaking something to the point of no repair, then you should call a professional. The difference between something a homeowner can fix and what takes professional remodeling services would be this: a homeowner can tighten a leaky sink or shower head, but a professional is needed to move large bathroom fixtures like a sink or toilet. Make sure you know what the job entails and what tools you will need to complete it before diving in head first.
I might need a permit. If you need a permit for a home improvement project and you are not a professional in this field, back away from the project. Involving a permit is a new ball game. While the rules vary from city to city, any time a permit is needed should be a red flag that the job requires a professional. A permit is essentially documentation assuring that the job will be done properly and safely – if you can't commit to that standard, then you are liable at the end of the day rather than a contractor you may hire.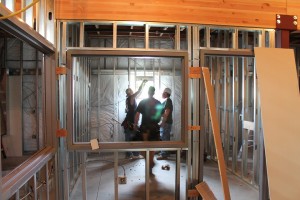 Compare prices – and add in variables. Get quotes from professionals with high ratings. Then, when comparing those prices to a DIY project, be sure to add in every cost that the contractor would. For example, factor in your time, hourly wage, supplies, wear and tear on tools, and anything else that might be relevant to the specific project. Sometimes it's not as cut and dry as you would think at the start of a project! If your time is worth more than a DIY project, you should definitely contact a professional.
The Benefits of DIY Instead of Hiring a Professional
While the opportunities for DIY projects are generally few and far between, there are some excellent projects that you can complete on your own that will benefit you in the long run! Not every project requires a professional.
Save big with resale stores. You probably don't want to buy paint from a resale store, but most other supplies will be of great value! When a contractor orders too many cabinets or a tiling project gets scaled back, for example, a lot of those otherwise brand new supplies will end up at resale stores. Buying any supplies you can for a DIY project from a resale store will keep your costs down and your smiles up.
Know where to spend big and where to save big. It's always a good idea to look at the full scale of a project. If you are remodeling an entire bathroom on your own and you are trying to cut back on costs, maybe the first thing you can scale back on is fancy lighting fixtures. Of course, this is just an example – many people prefer sleek lighting over high-end finishes or knobs. Wherever you know you can cut back may be a good idea from a cost savings perspective. You can always revisit a DIY remodel and add new fixtures or high-end finishes a few months down the road.
Learn a new skill. Some people LOVE do-it-yourself projects because they feel accomplished. It's like learning any new skill – each project will get better with time and with gained knowledge and experience. Start small and slowly work your way up to a bigger project. You will find out pretty quickly if DIY is for you!
If you're considering hiring professional remodeling services for your next big home improvement project, we urge you to contact us! We look forward to helping you build your dreams into a reality!